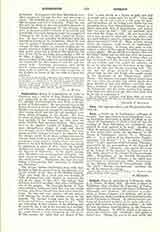 Click to enlarge
Sophronius, Bishop of Constantine or Tella in Osrhoene, was a relative of Ibas, Bishop of Edessa, and apparently of the same theological tendency, i.e. strongly anti-Monophysite and liable to be suspected of Nestorianism. He was present at a synod held at Antioch in 445 at which Athanasius, Bishop of Perrha, was deposed on charges of misconduct, the chief among which was that he had purloined some silver pillars belonging to the church. We have no means of judging whether these charges were true; very possibly, if not trumped up, they were too easily credited from partisan motives. Four years later at the Robber Council of Ephesus (q.v.) most extraordinary charges of magic and sorcery were brought against Bishop Sophronius. For some reason or other, perhaps because it was foreseen that the charges would break down, perhaps because he was not worth crushing in view of the more important personages being pursued, Sophronius's case was referred to the new Bishop of Edessa, when one should be appointed in place of Ibas whom the Conciliabulum had deposed. Sophronius is next heard of at the Council of Chalcedon. At the eighth session, after Theodoret had anathematized Nestorius, "the most reverend bishops cried out `Let Sophronius also anathematize'. Sophronius, the most reverend bishop of Constantine, said `anathema to Nestorius and Eutyches"'.
The charges against Sophronius have only been brought to light in recent years by the discovery of a Syriac version of the Acts of the Robber Council. They were made by a priest and two deacons of Tella (Constantine), who claimed to represent the rest of the clergy of that city. The bishop, they declared, practiced astrology and other vaticinative arts of the pagans. The miserable heresy of Nestorius which he had learnt from Ibas was not enough for him, so he threw himself into those other abominations. He once lost some money, and not content with making the suspected persons swear on the Gospels, "he, further testing them by the ordeal of bread and cheese, compelled them to eat". This not succeeding, he had recourse to the divining cup. He used the son of one of his servants as a medium, and with two others, after some incantations, placed the youth before a vessel containing oil and water. In this mixture the youth first saw flames of fire, then "a man sitting on a throne of gold, and clad in purple and a crown upon his head". After this they put the oil and water in a hole near the door, and the medium saw the bishop's son Habib who was returning home from Constantinople "seated on a black mare-mule that is blind-folded; and behind him two men on foot". The lad confessed these and other like things on oath. He was haunted by seven men dressed in white and lost his reason, and was with difficulty cured by being brought into holy places and anointed with oil. Many persons, among others the copyists, could testify to Sophronius's astrological writings. A deacon who came to him, to have a ticket of alms signed, found him inspecting a brass sphere. His son Habib introduced a Jew into his father's house and ate with him after the manner of the Jews. "During the week of Lent, when we fast, he feasted with this Jew, and kept him at table till ten o'clock; and even carried his audacity (so far as) to bring him into the Sanctuary of the Apostles, at the time that Service was being held. The city and the clergy, shocked by this conduct, chased both the Jew and Habib, who sought refuge in the Praetorium of the Commandant (Duke) Florus. The impious and pagan Florus rushed upon the city, where (his people) laid violent hands on a great number of men and children—certainly more than a hundred. In despair, these took refuge near the Tabernacle; but the arrows reached their bodies their blood was shed before the Altar, and many died in the act of embracing it."
FRANCIS J. BACCHUS
---
Enjoying this content?
Please support our mission!
Donate