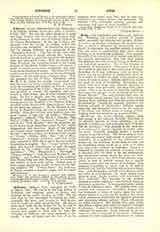 Click to enlarge
Atkinson, SARAH, philanthropist and biographer, b. at Athlone, Ireland, October 13, 1823; d. Dublin, July 8, 1893. She was the eldest daughter of John and Anne Gaynor, who lived on the western bank of the Shannon, in that part of Athlone which is in the County Roscommon. At the age of fifteen, she removed with her family to Dublin, where her education was completed. At twenty-five, she married Dr. George Atkinson, part proprietor of the "Freeman's Journal". The loss of her only child in his fourth year so deeply affected Mrs. Atkinson that she resolved to spend the rest of her life in charitable and other good works. With her friend, Mrs. Ellen Woodlock, she interested herself in the female paupers of the South Dublin Union, and opened a home to which many were transferred and were made useful members of society. Her house in Drumcondra soon became the rendezvous for the charitably disposed. It was even more a literary salon. Here she prepared her life of Mary Aikenhead which Mr. W. E. H. Becky has warmly commended, and here she wrote her many valuable essays. For many years she translated into English the French "Annals of the Propagation of the Faith". Much of her time was devoted to visiting the hospitals and poor people at their homes, and to other beneficent purposes. To her is largely due the success of the Childrens' Hospital, Temple Street, Dublin. The management of the Sodality of the Children of Mary, attached to the Church of St. Francis Xavier, was one of her particular pleasures. To the Hospice for the Dying, at Harold's Cross, she was a constant benefactress. Even her writings were made to serve the great objects of her life. In Duffy's "Hibernian Magazine", 1860-64, "The Month", 1864-65, "The Nation", 1869-70, the "Freeman's Journal", 1871, and in the "Irish Monthly" after its inception are to be found many important essays by her, chiefly biographical and historical. Some of her earliest and longest essays appeared in the "Irish Quarterly Review"; the best of them are included in her volume of "Essays" (Dublin, 1895). Her "Life of Mary Aikenhead", modestly published with her initial only, appeared in 1879, and is one of the best Catholic biographies in English. Her "Essays" include complete and learned dissertations on such divergent subjects as "St. Fursey's Life and Visions", "The Geraldines", "The Dittamondo", "Devorgilla", "Eugene O'Curry", "Irish Wool and Woolens", "St. Bridget", and excellent biographies of the sculptors John Henry Foley and John Hogan, the best accounts yet written of those great artists. Indeed most of these essays are the best studies we have on the various subjects. Her "Citizen Saint" (St. Catherine of Siena) occupies a hundred pages, and is a most able summary.
D.J. O'DONOGHUE
---
Enjoying this content?
Please support our mission!
Donate