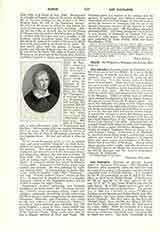 Click to enlarge
San Salvador, the name given by Columbus to his first discovery in the New World. It is one of the Bahama group of islands, and lies to the east of the southern extremity of Florida in 24° north lat. and 75° west long. It is also known under its Indian name of Guanahani. There has been endless discussion as to exactly which one of the Bahamas was first discovered by Columbus, and it is probable that men will never quite agree. All that can be said positively is that the first land discovered by him was one of the Bahamas. Different writers have at different times claimed the distinction for Cat Island, Samana, Mariguana, Grand Turk, and Watling's Island. The name San Salvador was given to Cat Island during the seventeenth and eighteenth centuries, but it does not fit the description given by Columbus in as much as it is not low and level and has no interior lagoon. A noteworthy attempt to prove that Samana was the landfall was made by Captain Gustavus V. Fox, of the United States Navy, in the "Report of the United States Coast Survey" for 1880. Navarrete first advocated Grand Turk Island in 1826, and Varnhagen in 1864 wrote a paper advocating Mariguana. The weight of modern testimony, however, seems to favor Watling's Island. Lieutenant J. B. Murdoch, an American naval officer, made a careful study of the subject, and found that in Columbus's description there were more points of resemblance in Watling's Island than in any other of the group. Among others whose opinion carries weight, and who are advocates of Watling's Island, are Major, the map-custodian of the British Museum, and the eminent geographer, Clements R. Markham.
VENTURA FUENTES
---
Enjoying this content?
Please support our mission!
Donate