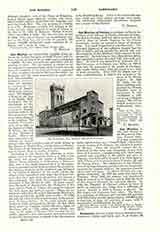 Click to enlarge
San Miniato, a city and diocese in the Province of Florence, Central Italy. It is first mentioned in the eighth century as a "vicus Wallari", where there was an oratory of S. Miniato, the celebrated martyr St. Mennas. From the eleventh century the inhabitants of this town were frequently at war with those of S. Genesio, a neighboring city, where many councils and assemblies of the nobles and cities of Tuscany were held (1074, Council of S. Peter Igneus; 1197, Treaty of S. Genesio between Celestine III and the Tuscan cities). The inhabitants of San Miniato were of the imperial party and the town was frequently occupied by German soldiers; the emperors granted them many privileges. In 1248 S. Genesio was completely destroyed. In 1397 the town was taken by Florence. From 1248 the chapter was transferred from S. Genesio to S. Miniato, and in 1526 the head of the chapter obtained the episcopal dignity. In 1408 the Republic of Florence wished to have it made an episcopal see, being then a suffragan of Lucca. Finally in 1622 it became a diocese. Its first bishop was Francesco Nori (1624). The diocese is a suffragan of Florence and contains 100 parishes with 240 secular and 42 regular priests; 108,000 souls; 5 convents of men, 13 convents of nuns, with 7 educational establishments for girls.
U. BENIGNI
---
Enjoying this content?
Please support our mission!
Donate