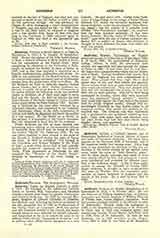 Click to enlarge
Anderton, ROGER, a Catholic layman, son of Christopher Anderton of Lostock, brother of James and uncle of Lawrence Anderton. His name often appears on the Recusant Rolls of Lancaster, and of his numerous family four became nuns. For a long time it was customary to attribute to him the authorship of the works written by his nephew Lawrence, under the name of "John Brereley, priest" and by other hands, although they seem to have been merely edited by him, and printed at a secret press maintained and protected by different members of the Anderton family. A list of these publications is among the Blundell of Crosby MSS. Roger Anderton is thought to have reestablished this press at Birchley after the inquisition post-mortem of James Anderton of Lostock and the seizure of his books. He is said to have died in 1640.
THOMAS WALSH
---
Enjoying this content?
Please support our mission!
Donate