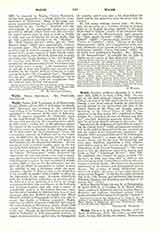 Click to enlarge
Walsh, ROBERT publicist, diplomat, b. at Baltimore, Md., 1785; d. at Paris, February 7, 1859. He was one of the first students entered at Georgetown College, graduated in 1801 and began his law course. During a two years' tour of Europe he contributed several articles on the institutions and laws of the United States to the Paris and London papers. Returning to the United States in 1808 he was admitted to the Bar, and in 1811 established at Philadelphia the "American Review of History and Politics", the first American quarterly review. Thereafter he devoted himself entirely to literature. His "Appeal from the Judgment of Great Britain respecting the United States" (1819), an important contribution to the political literature of the era, obtained for him the thanks of the Pennsylvania legislature. He founded (1821) and until 1836 edited the Philadelphia "National Gazette", a paper devoted to politics, science, letters, and the fine arts. His knowledge and taste gave American journalism a lofty impulse. Lord Jeffrey said of his "Letters on the Genius and Disposition of the French Government": "We must learn to love the Americans when they send us such books as this" ("Edinburgh Review", 1853, 799). He published two volumes of essays, entitled "Didactics", in 1836, and from 1837 to 1844 he was Consul General of the United States in Paris, where he remained until his death. His house was the popular rendezvous of the learned and distinguished men of France. His vivacity of mind, intellectual zeal, interest in politics, literature, science, and cultivated society never flagged. At his death a writer declared him to be "the literary and intrinsical link between Jefferson, Madison and Hamilton and the men of the present day" (1859).
Robert Moylan Walsh, his son (b. at Philadelphia, April 27, 1818; d. at Camden, N. J., March, 1872), filled a number of diplomatic posts at London, Naples, Florence, and Leghorn, translated several French books and assisted his father in editing the "Gazette".
THOMAS F. MEEHAN
---
Enjoying this content?
Please support our mission!
Donate