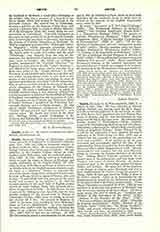 Click to enlarge
Smith , RICHARD, b. in Worcestershire, 1500; d. at Douai, July 9, 1563. He was educated at Merton College, Oxford; and, having taken his M.A. degree in 1530, he became registrar of the university in 1532. In 1536 Henry VIII appointed him first Regius Professor of divinity, and he took his doctorate in that subject on July 10 in the same year. He subsequently became master of Whittington College, London; rector of St. Dunstan's-in-the-East; rector of Cuxham, Oxfordshire; principal of St. Alban's Hall; and divinity reader at Magdalen College. Under Edward VI he is said by his opponents to have abjured the pope's authority at St. Paul's Cross (May 15, 1547) and at Oxford, but the accounts of the proceedings are obscure and unreliable. If he yielded at all, he soon recovered and accordingly suffered the loss of his professorship, being succeeded by Peter Martyr, with whom he held a public disputation in 1549. Shortly afterwards he was arrested, but was soon liberated. Going to Louvain, he became professor of divinity there. During Mary's Catholic restoration he regained most of his preferments, and was made royal chaplain and canon of Christ Church. He took a prominent part in the proceedings against Cranmer, Ridley, and Latimer. He again lost all his benefices at the change of religion under Elizabeth, and after a short imprisonment in Parker's house he escaped to Douai, where he was appointed by Philip II dean of St. Peter's church. There is no foundation for the slanderous story spread by the Reformers to account for his deprivation of his Oxford professorship. When Douai University was founded on October 5, 1562, he was installed as chancellor and professor of theology, but only lived a few months to fill these offices. He wrote many works, the chief of which are: "Assertion and Defense of the Sacrament of the Altar" (1546); "Defense of the Sacrifice of the Mass" (1547); "Defensio coelibatus sacerdotum" (1550); "Diatribes de hominis justificatione" (1550); "Buckler of the Catholic Faith" (1555-56); "De Missae Sacrificio" (1562); and several refutations of Calvin, Melanchthon, Jewell, and Beza, all published in 1562.
EDWIN BURTON
---
Enjoying this content?
Please support our mission!
Donate