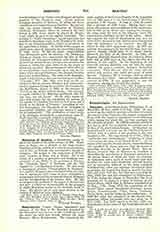 Click to enlarge
Remiremont, Vosges, France, monastery and nunnery of the Rule of St. Benedict, founded by Sts. Romaricus and Amatus in 620, on hills above the site where the town now stands, whence the name Rromarici Mons, Remiremoit. The monastery became a priory of the Canons Regular of St. Augustine who, in 1623, gave it to the Benedictines of the Congregation of St. Vannes. It had, in 1768, 10 monks and a revenue of 5500 livres. During three centuries, the nunnery was a neighbor of the monastery, but, in 910, as the Huns were wasting the country, the nuns, with the help of the Emperor Louis III, constructed a fortified convent in the valley. About this convent the town of Remiremont rose, and the relics of Sts. Romaricus and Amatus were transported from the monastery to the convent. Leo IX enriched it with other numerous relics. In 1057 the convent was destroyed by fire and the nuns were dispersed; though rebuilt later it no longer strictly observed the Rule of St. Benedict. In 1284, the Emperor Rudolph married there the Princess Elizabeth and, in 1290, gave to the abbess the title of a princess of the empire. In the beginning of the sixteenth century discipline was lax and the nuns, without the pope's consent, declared themselves canonesses. They did not take the vows and admitted only novices who could give proof of noble descent. Catharine III of Lorraine tried to reform the convent, but failed. Anna of Lorraine rebuilt the convent in 1752. It was suppressed, as was the monastery, during the French Revolution.
JOSEPH DEDIEU
---
Enjoying this content?
Please support our mission!
Donate