Raphael Semmes
Naval officer, b. in Charles County, Maryland, U.S.A., September 27, 1809; d. at Point Clear, Alabama, August 26, 1877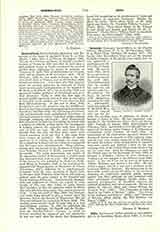 Click to enlarge
Semmes, RAPHAEL, naval officer, b. in Charles County, Maryland, U.S.A., September 27, 1809; d. at Point Clear, Alabama, August 26, 1877. His families were descendants from one of the original Catholic colonists of Maryland, from which state he was appointed a midshipman in the U.S. Navy April 1, 1826. He served until 1832, when he was given leave of absence extending until July, 1835, during which time he studied law and was admitted to practice. Rejoining the navy, he served with distinction, attaining the rank of commander, until the outbreak of the Civil War, when he resigned and cast his lot with the seceding state of Alabama, of which he became a citizen in 1841. He was appointed commander in the Confederate States Navy, March 25, 1861; Captain, August 21, 1862; Rear-Admiral, February 10, 1865; and retired to civil life after the surrender of the forces under General J. E. Johnston at Greensboro, North Carolina, April 26, 1865. As commander of the Confederate privateer Sumter he destroyed, during six months in 1861, eighteen ships, and the next year, taking command of the Alabama, he began the famous cruise during which he captured sixty-nine vessels and inflicted a blow on the sea-carrying trade of the United States from which it has not yet recovered. After the Alabama was sunk off the French coast by the Kearsarge, June 19, 1864, he escaped to England, whence he later returned to Virginia and was engaged in the defenses about Richmond. At the end of the war he went to his home in Mobile, Alabama, and opened a law office. He also edited a paper, and for a time was a professor in the Louisiana Military Institute. His destruction of the mercantile marine during his cruise in the privateer Alabama so embittered northern public opinion against him that, although he was pardoned with other prominent Confederate leaders under the amnesty proclamation of President Johnson, his political disabilities were never removed. He was the author of "Service Afloat and Ashore During the Mexican War" (1851); "The Campaign of General Scott in the Valley of Mexico" (1852); "The Cruise of the Alabama and Sumter" (1864); and "Memoirs of Services Afloat during the War between the States" (1869).
THOMAS F. MEEHAN
---
Enjoying this content?
Please support our mission!
Donate