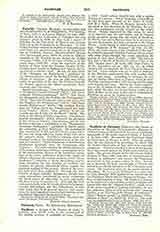 Click to enlarge
Pacificus, a disciple of St. Francis of Assisi, b. probably near Ascoli, Italy, in the second half of the twelfth century; d. probably at Lens, France,1234. Local authors identify him with a certain William of Lisciano. Before becoming a Friar Minor he had been poet laureate at the Court of Frederick II of Sicily. When St. Francis, towards 1212, preached at San Severino, in the Marches, the poet saw two resplendent swords crossed on the saint's breast. Deeply impressed by this vision, he asked to be received into the new order, and St. Francis gladly complied, giving him the name of Pacificus. In 1217 he was sent to France, where he is said to have become the founder and first provincial of the Friars Minor. In the Spring of 1226 Pacificus witnessed the holy "Stigmata of St. Francis" (II Cel., II, 99). When the saint composed the "Canticle of the Sun" he wished to summon Brother Pacificus and send him with other friars through the world, preaching the praises of God (Spec. Perfect., c. 100). The last certain date in the life of Brother Pacificus is that of the Bull "Magna sicut", April 12, 1227 (Bull. Franc., I, 33-34; Raynaldus, ad an. 1227, 64, 65), in which Gregory IX recommends the Poor Clares of Siena to his care. Later authors who say he died at Suffiano, in the Marches, confounded him with another friar of the same name. According to Gonzaga, he was sent by Brother Elias back to France, where he died. Pacificus was long credited with having put the songs of St. Francis into verse. But for the simple construction of the "Canticle of the Sun", the saint needed no help, whilst the other two do not belong to him at all. Some Italian verses said to have been composed by Pacificus are given by Italian authors.
LIVARIUS OLIGER
---
Enjoying this content?
Please support our mission!
Donate