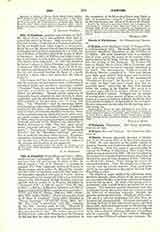 Click to enlarge
Odo of Cheriton, preacher and fabulist, d. 1247. He visited Paris, and it was probably there that he gained the degree of Master. Bale mentions a tradition that he was a Cistercian or a Praemonstratensian; but he can hardly have taken vows if, as seems most likely, he was the Master Odo of Cheriton mentioned in Kentish and London records from 1211 to 1247, the son of William of Cheriton, lord of the manor of Delce in Rochester. In 1211-12 William was debited with a fine to the crown, for Odo to have the custodia of Cheriton church, near Folkestone. In 1233 Odo inherited his father's estates in Delce, Cheriton, and elsewhere. A charter of 1235-6 (Brit. Mus., Harl. Ch. 49 B 45), by which he quitclaimed the rent of a shop in London, has his seal attached, bearing the figure of a monk seated at a desk, with a star above him (St. Odo of Cluny?).
Like Jacques de Vitry, he introduced exempla freely into his sermons; his best known work, a collection of moralized fables and anecdotes, sometimes entitled "Parabolas" from the opening words of the prologue (A periam in parabolis os meum), was evidently designed for preachers. Though partly composed of commonly known adaptations and extracts, it shows originality, and the moralizations are full of pungent denunciations of the prevalent vices of clergy and laity. The "Parabolas" exist in numerous manuscripts, and have been printed by Hervieux (Fabulistes Latins, IV, 173-255); a thirteenth century French version is extant, also an early Spanish translation. Some of the contents reappear, along with many other exempla, in his sermons on the Sunday Gospels, completed in 1219, extant in several manuscripts; an abridgment of which, prepared by M. Makerel, was printed by J. Badius Ascensius in 1520. The only other extant works, certainly authentic, are "Tractatus de Poenitentia", "Tractatus de Passione", and "Sermones de Sanctis"; but the "Speculum Laicorum" also cites him as authority for many other exempla. Haureau's contention (Journal des Savants, 1896, 111-123), that the fabulist was a distinct person from the author of the sermons and treatises, is not supported.
J. A. HERBERT
---
Enjoying this content?
Please support our mission!
Donate