Nathanael
One of the first disciples of Jesus, to whom he was brought by his friend Philip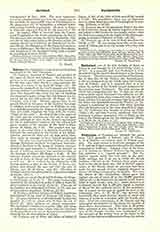 Click to enlarge
Nathanael, one of the first disciples of Jesus, to whom he was brought by his friend Philip (John, i, 43-51). It is generally held that Nathanael is to be identified with the Apostle Bartholomew of the Synoptic writers. The latter make no mention of Nathanael, but in their lists of the Twelve, one, Bartholomew) is always designated by his family name Bar-Tolmai (son of Tolmai), and it is assumed that it is he whom the author of the Fourth Gospel designates by his personal name Nathanael. The main reasons on which this assumption rests are: (I) that the circumstances under which Nathanael was called do not differ in solemnity from those connected with the call of Peter, whence it is natural to expect that he as well as the latter was numbered among the Twelve; (2) Nathanael is mentioned as present with other Apostles after the Resurrection in the scene described in John, xxi; (3) Nathanael was brought to Jesus by Philip ( John, i, 45), and thus it seems significant that Bartholomew is always mentioned next to Philip in the lists of the Twelve given by the Synoptists (Matt., 3; Mark, iii, 18; Luke, vi, 14).
JAMES F. DRISCOLL
---
Enjoying this content?
Please support our mission!
Donate