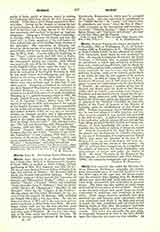 Click to enlarge
Morse (Lat. morsus), also called the MONILE, FIBULA, FIRMALE, PECTORALE, originally the rectangular ornamented piece of material attached to the two front edges of the cope near the breast to prevent the vestment from slipping from the shoulders. Morses were provided with hook and eye, and were often richly ornamented with embroidery or precious stones. The name was also applied to metal clasps used instead of such pieces of woven fabric. As early as the eleventh century such metal clasps are found represented in miniatures and mentioned in inventories. These clasps, however, gradually lost their practical use and became mere ornaments, which were sometimes sewn firmly to the flaps that served to fasten the cope, sometimes only attached to the flaps by hooks, so that, after the vestment had been worn, the clasps could be removed and cared for separately. This latter was especially the case when, as frequently happened at least in the later Middle Ages, the clasp was very heavy or very valuable. As early as the thirteenth century inventories mention clasps which formed distinct ornaments in themselves. Many churches had a large number of such morses. They were generally made of silver covered with gold, and were ornamented with pearls, precious stones, enamel, niello work, architectural designs, small figures of saints, ornamental work in flowers and vines, and similar designs. Such clasps were frequently the finest products of the goldsmith's art; they were generally either round, square, quatrefoil, or like a rosette in form; yet there were also more elaborate and at times peculiar shapes. Abundant proof of the desire for costly clasps for the cope is shown by the old inventories and by the numerous medieval morses preserved (especially in Germany) in churches and museums. According to present Roman usage the morse is reserved to cardinals and bishops ("Cier. episc.", I, c. vii, n. 1; S. R. C., September 15, 1753).
JOSEPH BRAUN
---
Enjoying this content?
Please support our mission!
Donate