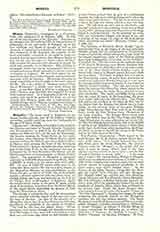 Click to enlarge
Moneta (MONETUS), theologian, b. at Cremona, Italy, date unknown; d. at Bologna, 1240. He was one of the first disciples of St. Dominic. Previous to his entrance into the order in 1220, he was professor of philosophy in the university of Bologna, where his rare erudition and depth of thought as well as his clearness of exposition won for him a wide reputation. The eloquence of Bl. Reginald, the superior of the local community, attracted to the order so many renowned doctors and students that Moneta began to fear for his own prestige, to insure which, he care-fully avoided the preacher and exhorted his pupils, by word and example, to do likewise. But yielding to his pupils' wishes one day he accompanied them to a sermon and was so deeply moved by it that he resolved to become a religious. He was later noted for his sanctity no less than for his eloquent and learned controversies with the heretics. His intense devotion to study caused him to lose his sight in the latter days of his life. He is the author of "Summa contra Catharos et Waldenses", a widely read work during his time. It was first edited in 1743 by a religious of his order, Thomas August Ricchini, who supplied the work with copious notes. In a biographical sketch of the author with which he prefaced the work, we are informed that Moneta wrote also a commentary on Aristotle's logic and a "Summa casuum conscientiae".
JOSEPH SCHRODER
---
Enjoying this content?
Please support our mission!
Donate