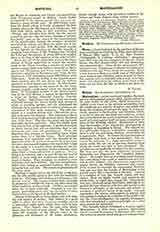 Click to enlarge
Mater, a titular bishopric in the province of Byzantium, mentioned as a free city by Pliny under the name of Matera (Hist. natur., V, iv, 5). Msgr. Toulotte ("Geographie de l'Afrique chretienne", proconsulaire, 197) cites only two occupants of this see: Rusticianus, who died shortly before 411, and Quintasius, who succeeded him. Gams (Series episcoporum, 467) mentions four: Rusticianus, Cultasius for Quintasius, Adelfius in 484, and Victor about the year 556. Mater is now known as Mateur, a small town of 4000 inhabitants, in great part Christian, and is situated in Tunis. The modern town is encircled with a wall, with three gates; it is situated on the railway from Tunis to Bizerta, not far from the lake to which it has given its name.
S. VAILHE
---
Enjoying this content?
Please support our mission!
Donate