Luca Cambiaso
Genoese painter, b. at Moneglia near Genoa, in 1527; d. in the Escorial, Madrid, 1585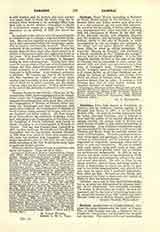 Click to enlarge
Cambiaso, LUCA (also known as LUCHETTO DA GENOVA, and as LUCHINO), Genoese painter, b. at Moneglia near Genoa, in 1527; d. in the Escorial, Madrid, 1585. He received his first instruction from his father, Giovanni Cambiaso, who is believed to have been the author of the method adopted in designing whereby the human body is divided into small squares in order to give correct proportions in foreshortening. Luca exhibited considerable talent, and was enabled by the assistance of a friend to visit Florence and Rome, where he carefully studied the works of Michelangelo. His early paintings are somewhat extravagant and grotesque, but later in life he checked his impetuosity, and his paintings were distinguished by exquisitely transparent color and by grace in pose and composition. He was an exceedingly rapid painter, using both hands at once, and passionately fond of glowing color and of sumptuous architectural backgrounds. In 1583 he was invited to visit Spain, where he was employed by Philip II in the Escorial, and painted the ceiling of the choir and several altar-pieces. His wife, to whom he was deeply attached, died at Genoa, and being unable to obtain a dispensation to marry her sister, he gave way to the severe disappointment, and allowed it to prey upon his mind until it produced melancholia, from which he died. He had one son, Orazio, who accompanied his father to Spain and who worked for Philip II after the father's decease.
Cambiaso was a man of little historical knowledge, but as an artist was distinguished by accurate drawing, clever composition, and admirable coloring. The women in his pictures are modest, the men impassioned, and he was fond of introducing horses into iris scenes and painted them with beauty and spirit. His best works are in Madrid, Munich, and Florence.
GEORGE CHARLES WILLIAMSON
---
Enjoying this content?
Please support our mission!
Donate