Leone Battista Alberti
Florentine ecclesiastic and artist, b. 18 February, 1404; d. April, 1472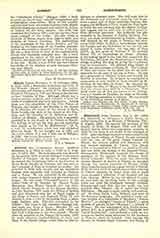 Click to enlarge
Alberti, LEONE BATTISTA, b. February 18, 1404; d. April, 1472, a Florentine ecclesiastic and artist of the fifteenth century. He embraced the ecclesiastical state and became a canon of the Metropolitan Church of Florence, in 1447, and Abbot of San Sovino, or Sant' Eremita, of Pisa. Although Alberti was a scholar, painter, sculptor, and architect, it is by his works of architecture that he is best known. Among them are the completion of the Pitti Palace at Florence, the chapel of the Rucellai in the church of St. Pancras, the facade of the church of Santa Maria Novella, the choir of the church of the Nunziata, and the churches of St. Sebastian and St. Andrew, at Mantua. His greatest work is generally conceded to be the church of St. Francis at Rimini. His writings on art are his best, and his reputation rests largely on his "De Re Aedificatoria", vol. X, a work on architecture, which was only published after his death. It was brought out in 1485, and the latest edition of it was a folio one at Bologna, in 1782. See Italy, Renaissance.
J. J. A' BECKET.
---
Enjoying this content?
Please support our mission!
Donate