Laura
Greek word employed by fifth-century writers to distinguish the monasteries of Palestine of the semi-eremitical type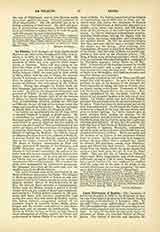 Click to enlarge
Laura. The Greek word laura is employed by writers from the end of the fifth century to distinguish the monasteries of Palestine of the semi-eremitical type. The word signifies a narrow way or passage, and in later times the quarter of a town. We find it used in Alexandria for the different portions of the city grouped around the principal churches; and this latter sense of the word is in conformity with what we know of the Palestinian laura, which was a group of hermitages surrounding a church.
Although the term laura has been almost exclusively used with regard to Palestine, the type of monastery which it designated existed, not only there, but in Syria and Mesopotamia; in Gaul; in Italy; and among the Celtic monks. The type of life led therein might be described as something midway between the purely eremitical—inaugurated by St. Paul the first hermit and the purely cenobitical life. The monk lived alone though dependent on a superior, and was only bound to the common life on Saturdays and Sundays, when all met in church for the solemn Eucharistic Liturgy. This central church was the origin of what was afterwards called the coenobium, or the house of the imperfect, or of "the children". There the future solitary was to pass the time of his probation, and to it he might have to return if he had not the strength for the full rigour of the solitary life. The lauras of Palestine were originated by St. Chariton, who died about 350. He founded the Laura of Pharan, to the northeast of Jerusalem, and that of Douka, northeast of Jericho. But most of the lauras in the vicinity of Jerusalem owed their existence to a Cappadocian named Sabas. In 483 he founded the monastery which still bears his name, Mar Saba. It stands on the west bank of Cedron and was once known as the Great Laura. We know that in 814 the Laura of Pharan was still flourishing, and it appears that on Mount Athos this type of life was followed till late in the tenth century. It gave way, however, to the cenobitic, and no monastery now extant can be said really to resemble the ancient lauras.
R. URBAN BUTLER
---
Enjoying this content?
Please support our mission!
Donate