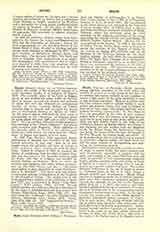 Click to enlarge
Bazin, JOHN STEPHEN, third Bishop of Vincennes (now the Diocese of Indianapolis), b. at Duerne, near Lyons, France, October 15, 1796; d. at Vincennes, Indiana, U.S.A., April 23, 1848. He was educated in his native country and ordained in the Cathedral of Lyons, July 22, 1822. In 1830 he came to America and began his labors among the Catholics of Mobile, Alabama, where for seventeen years he toiled zealously for the religious instruction of the young, organizing the Sunday schools and establishing the Catholic Orphan Asylum Society. He was also the vicar-general of the diocese. In 1846 at the request of Bishop Portier, Father Bazin went to France to secure the services of the Society of Jesus for the College of Spring Hill, Alabama, and of the Brothers of the Christian Schools for the Boys' Orphan Asylum. In both efforts he was successful. When the Right Rev. Celestine de la Hailandiere, Bishop of Vincennes, resigned his see in 1847, Father Bazin was consecrated his successor on the 24th of October of that year. His episcopal career, which promised to be one of great usefulness to the Church, was cut short by his untimely death.
EDWARD P. SPILLANE
---
Enjoying this content?
Please support our mission!
Donate