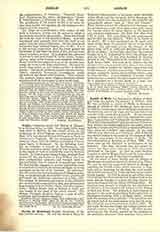 Click to enlarge
Jocelin, Cistercian monk and Bishop of Glasgow; d. at Melrose Abbey in 1199. On April 22, 1170, being then prior of Melrose, he was chosen abbot, on the resignation of Abbot William, and four years later (May 23, 1174) was elected Bishop of Glasgow at Perth, in succession to Ingelram. He was consecrated at Clairvaux on June 1, 1175, by Eskilus, Archbishop of Lund, papal legate to Denmark. In the following January he attended a council at Northampton, and Hoveden reports a speech made by him in opposition to the claims of York to jurisdiction over the Scottish Church. In 1182 Jocelin visited Rome, obtained from Lucius III the absolution of King William the Lion from ecclesiastical censures, and brought back to him the Golden Rose in token of the papal forgiveness. We find Jocelin engaged for several succeeding years in negotiations between Scotland and Rome as to the succession to the See of St. Andrews. He undertook also the restoration and enlargement of Glasgow cathedral, of which he built the beautiful crypt, and himself performed the dedication ceremony on July 6, 1197. The number of prebends and canons of the cathedral was considerably augmented by him, and he bestowed large benefactions on Paisley, Kelso, and other monasteries. Bishop Jocelin died at Melrose in 1199, and was buried in the choir of the abbey church. The Melrose Chronicle describes him as a man of mild, courteous, and moderate character.
---
Enjoying this content?
Please support our mission!
Donate