Jeanne-Louise-Henriette Campan
French educator, b. November 6, 1752, at Paris; d. in 1822, at Mantes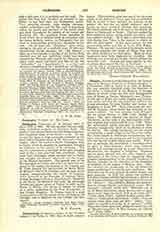 Click to enlarge
Campan, JEANNE-LOUISE-HENRIETTE, nee GENEST (known as MADAME CAMPAN), a French educator, b. November 6, 1752, at Paris; d. in 1822, at Mantes. She was carefully educated under the direction of her father, a head-clerk in the Ministry of Foreign Affairs, in whose house she met such distinguished men of letters as Duclos, Marmontel, and Thomas. At the age of fifteen she spoke English and Italian, and read so well that she was appointed reader to the young princesses, Victoire, Sophie, and Louise, the daughters of Louis XV. Soon afterwards she married M. Campan, whose father was secretary to the queen's cabinet. On that occasion Louis XV gave her an annual income of 5000 livres ($1000) as dowry. She then entered the service of Marie-Antoinette, as first lady of the bed-chamber (1770), and retained that position till June 20, 1792. When the unfortunate queen was sent to prison, Mme Campan courageously asked to be allowed to share her sad lot. Her request was denied, and she retired to Coubertin, a small village in the Chevreuse valley. She found herself in straitened circumstances, having to provide for her young son and for her husband who was heavily in debt and in poor health. With a nun as associate she established a boarding-school for girls at Saint-Germain, which soon achieved success and counted among its pupils Hortense de Beauharnais, the daughter of Josephine. Napoleon was so much pleased with the order, elegance, and distinction of the school that he appointed Mme Campan superintendent of the Imperial Academy of Ecouen, founded for the education of the daughters of members of the Legion of Honor (December, 1807). She adopted the program of the old Saint-Cyr house, modifying it to suit the new conditions. Her chief aim was to train girls to be useful women and good mothers. In 1814 the school was abolished and Mme Campan bitterly denounced as a traitor by the Royalists, because she had accepted the favors of the "usurper". She retired to Mantes and spent her time in writing didactic and historical essays. Mme Campan's principal works are: "Memoires sur la vie de Marie-Antoinette, suivis de souvenirs et anecdotes sur le regne de Louis XIV et de Louis XV" (3 vols., Paris, 1823); "Lettres de deux jeunes filles" (1811); "L'education des femmes" (1823); "Conversations d'une mere avec ses filles" (1804); "Nouvelles et comedies l'usage de la jeun" (1823). These four books have been published under the title of "Oeuvres completes de Mme Campan sur l'education" (Paris, 1823).
LOUIS N. DELAMARRE
---
Enjoying this content?
Please support our mission!
Donate