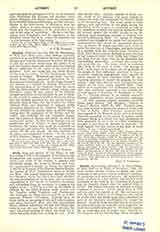 Click to enlarge
Attiret, JEAN DENIS, painter, b. at Dole, France, July 31, 1702; d. at Pekin, December 8, 1768. He made serious artistic studies in Rome and after returning to his native country achieved considerable reputation as a portrait painter. He entered the Jesuit novitiate as a lay brother and has left some specimens of his work in the Cathedral of Avignon and the Sodality chapel which he painted while a novice. The Jesuits had many of their men in China employed as painters. Attiret joined them in 1737 and was easily the superior of all. He was honored with the title of Painter to the Emperor, who visited his studio daily and finally made him a mandarin in spite of the brother's unwillingness to accept the honor. As all the work was done not for art but for the sake of pleasing the emperor, every suggestion he made was carefully attended to. Oil was not agreeable, so aquarelles and distemper were resorted to. The Emperor did not like shading, for he thought it was a blot, so that disappeared. It all ended in Attiret becoming altogether Chinese in his tastes and his methods, so that he no longer painted like a European. He made portraits of all the distinguished court-personages, but most of his work was done on glass or silk and represented trees, and fruits, and fishes, and animals, etc. When, however, the emperor had beaten back the Tatars, he ordered the battles to be painted. Four Jesuit brothers, among whom was Attiret, made sixteen tableaux, which were engraved in France in 1774. When the collection arrived from France, however, Attiret was dead. The emperor manifested great concern at his loss, bore the expenses of the obsequies, and sent a special representative to show his sorrow at the tomb. Attiret is credited with at least 200 portraits.
T.J. CAMPBELL
---
Enjoying this content?
Please support our mission!
Donate