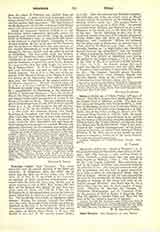 Click to enlarge
Issus, a titular see of Cilicia Prima, suffragan of Tarsus. The city is famous for a whole series of battles fought there at different periods. The first was the victory of Alexander over Darius in 333 B.C., next that of Septimius Severus over Pescennius Niger, in A.D. 194, that of Heraclius over Chosroes in A.D. 622, finally that of the Sultan of Egypt, Bibars, over the Armenian King Hetoum in August, 1266. So many combats were fought at Issus because in its vicinity was the famous defile leading along the seashore from Cilicia to Syria, the "Gates of Syria", or highway from Asia Minor into the Syrian Orient. Issus is not mentioned in the "Notitiae Episcopatuum" of the Patriarchate of Antioch, to which Cilicia belonged (Ethos d'Orient, X, 94, 145), and it is not known in what manner it became a titular see of the Latin Church. Its ruins are situated near Ayaz.
S. VAILHE
---
Enjoying this content?
Please support our mission!
Donate