Irvingites
Religious sect named for Edward Irving (1792-1834), a deposed Presbyterian minister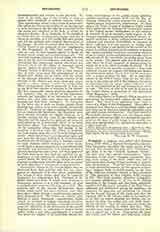 Click to enlarge
Irvingites, a religious sect called after Edward Irving (1792-1834), a deposed Presbyterian minister. They themselves repudiate this name, saying Irving was not their founder but only their "forerunner"; and claim to be the "Catholic Apostolic Church". The sect arose from certain extraordinary "manifestations of the spirit"—tongues, prophecies, healings, even raising of the dead—which were said to have taken place during Irving's ministry in London, after his deposition. These led some of his followers to band themselves together for the purpose of forming a religious body modeled exactly on the lines of the primitive Apostolic Church, as they conceived it. The specialty of their religious belief consists in this: They hold apostles, prophets, evangelists, and pastors (Ephesians, iv, 11-14) to be abiding ministries in the Church, and that these ministries, together with the power and gifts of the Holy Ghost, dispensed and distributed among her members, are necessary for preparing and perfecting the Church for the Second Advent of the Lord; and that the supreme rule in the Church ought to be exercised, as at first, by twelve apostles, not elected and ordained by men, but called and sent forth immediately by God. They are not separated from the Church of the country in which they live. They worship apart, indeed, because they believe that they have a special call to do so. They accept the Apostles' Creed, and the Nicene and Athanasian Creeds. It is their form of church government and liturgy which are peculiar to them. During Irving's lifetime six apostles were "separated" for the work of the ministry. After his death six others were added. These twelve apostles were to ordain twelve "prophets", twelve "evangelists", and twelve "pastors". Seven "deacons" were to be chosen for the management of the temporal affairs of the body. This number of central officials has not in fact been adhered to. Each congregation has at its head an "angel", or bishop, who ranks as a "pastor", and who has under him twenty-four priests and seven deacons. The ritual is exceedingly elaborate, resembling in many ways the most splendid functions of the Catholic Church. At Matins and Vespers they have "Proposition" (Exposition) of the Sacrament. On Sundays and holidays they have solemn celebration of the Eucharist with lights, incense, and vestments. They use oil and water in their ritual observances. Their two principal churches are at Albury (Surrey, England), and at Gordon Square, London (England). It should be stated that the so-called Irvingites owe much more to Henry Drummond (1786-1860) than to Irving. At his seat, Albury Park, the earliest meetings of the sect were held, and his wealth was at its disposal. He was one of its office-bearers, and wrote numerous works in its defense. The last of the "apostles" died in 1901, and none has since been appointed. No official statistics are published, but there are known to be congregations not only in England, but also in America, Germany, France, and Switzerland. In 1900 there were 80 churches altogether.
T. B. SCANNELL
---
Enjoying this content?
Please support our mission!
Donate