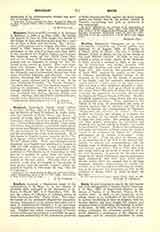 Click to enlarge
Bougeant, GUILLAUME-HYACINTHE, b. at Quimper in Brittany, in 1690; d. at Paris, 1743. He entered the Society of Jesus in 1706, taught the classics in the College of Caen and Nevers and lived for a number of years in Paris until his death. His "Amusement philosophique sur le langage des betes", published in 1737, became a cause of considerable annoyance to him and of a short exile from Paris. It was translated into English, Italian, and German. His historical works, on the Thirty Years' War, and on the Treaty of Westphalia have been highly praised and are regarded as among the best historical books written by Jesuits. They were translated into German. He is also the author of a theological treatise on the form of consecration of the Eucharist, and of a Catechism divided into three parts, historical, dogmatic, and practical. This catechism, translated into Italian and German, went through many editions and is still in use. In his three celebrated Comedies, "La Femme Docteur", "Le Saint deniche", and "Les Quakres francais" he satirizes the Jansenists. The first of the three went through twenty-five editions in a few months and was translated into Italian, Spanish, Polish, and Dutch. Between 1725 and 1737 he contributed many articles to the Memoires de Trevoux.
B. GULDNER
---
Enjoying this content?
Please support our mission!
Donate