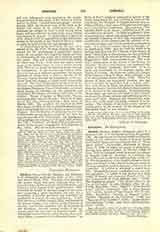 Click to enlarge
Cordara, GIULIO CESARE, historian and litterateur, b. at Alessandria in Piedmont, Italy, December 14, 1704; died there March 6, 1785. The scion of an illustrious and ancient family that came originally from Nice, young Cordara studied at Rome under the Jesuits, and became a Jesuit himself at the age of fourteen. Subsequently he taught in various colleges of the order, soon acquiring a great reputation not only for a knowledge of general literature, but especially for proficiency in poetry, rhetoric, and history. A brilliant discourse on Pope Gregory XIII, the founder of the Roman College, and a satire on the Cabalists of the day, won for him admission into the Academy of the Arcadians. Several poetical works of his appeared under the pen name of Pameno Cassio. Ile was in high favor with the exiled Stuarts, then residing in Rome, on account of an allegorical drama, "La Morte di Nice", which he composed in honor of the titular King James III, and a history in Latin of the expedition into Scotland of Charles Edward Stuart, Prince of Wales, which some of his admirers look upon as his most finished production. His satires on "The Literary Spirit of the Times", published in 1737, are of a high order of merit. In them he pillories a class of contemporary writers who arrogated to themselves the literary censorship of their day, condemned the classification of the sciences and the methods of instruction in vogue, and even the accepted principles of taste. A seventh and revised edition was brought out at Augsburg in 1764. But the work by which he is perhaps best known is the "History of the Society of Jesus", Sixth Part, in two volumes, the first published in Rome in 1750, the second posthumously, by Father Raggazzini in 1859, over a century later. This work was a continuation of the history of the Society by Orlandini, Sacchini, and Juvency and embraced the period of Mutius Vitelleschi, 1616-1633. It is in Latin and remarkable for the elegance, purity, and dignity of its style. He is also the author of a history of the German College, in Rome, which contains a list of its distinguished alumni (Rome, 1770). When the Society of Jesus was suppressed, Cordara, who had been a member for more than half a century, withdrew from Rome to Turin and later to Alessandria, where the King of Sardinia had allowed some members of the Society to live unmolested. Notwithstanding his advanced age and his new mode of life, Cordara continued his literary labors and published much in prose and verse. Sommervogel enumerates more than sixty works, large and small, of which he is the author. The citizens of his native town erected a marble statue to his memory, in the church of the Barnabites where he was interred.
EDWARD P. SPILLANE
---
Enjoying this content?
Please support our mission!
Donate