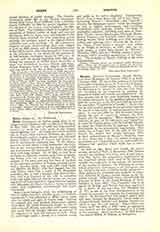 Click to enlarge
Berni, FRANCESCO, an Italian comic poet, b. at Lamporecchio (Florence) 1497 or 1498; d. at Florence, May 26, 1535. The son of noble but impoverished parents, he spent his early years in the Tuscan capital fighting want. At twenty better luck awaited him in Rome, where Cardinal Bibbiena, his relative the Cardinal's nephew, Angelo Dovizi, and Giovanni Mattia Giberti, Bishop of Verona and Datary to Leo X, successively employed him. In the datary, however, he had found a hard taskmaster, who kept him at his correspondence all day long and would not countenance the buffooneries in which the young clerk took huge delight. So, in 1531 we find Berni at Padua in rapturous freedom, gaily bent on bandying insults with the notorious Aretino. Still, the autumn of the same, year saw him back at his desk in the episcopal residence of Verona, penning letters with a reluctant hand. Not until 1533, when Cardinal Ippolito dei Medici, who had engaged him the year before, made him a canon of the Florentine cathedral, did he find a position that pleased him. But that long dreamed of life, with its unbridled frolic and happy idleness, was not to last, for, becoming involved in the feud then raging between Ippolito and Alessandro dei Medici, he fell a victim to poison under very mysterious circumstances two years afterwards.
Berni's most extensive work, the refashioning of Matteo Maria Boiardo's chivalric poem, "L'Orlando innamorato", was published at Milan seven years after his death and again at Venice, 1545. Leaving the original plot and detailed denouement entirely unchanged, the jovial Florentine sought to enamel with a smooth diction, and color with many a quip and prank what he thought offensive on account of its ruggedness of form and dullness of style. Thus he unwittingly made a parody of a creation strong and noble in its native simplicity. Undoubtedly Berni's fame is more deservedly due to his "Rime", embracing "Sonetti", "Sonettesse", and "Capitoli", wherein the Bernesque manner found its inception as well as highest achievement, and snivelling Petrarchists were pitilessly flouted. In spite of numberless imitators, including such men as Benedetto Varchi, Ercole Bentivoglio, Giovanni Mauro, Matteo Franzesi, and Ludovico Dolce, Berni's easy flowing tercets, fairly bubbling over with graceful raillery and capering mirth, dwarfed all his rivals. The "Rime, Poesie latine, e Lettere" were edited by A. Virgili at Florence, in 1885. Nor are the Latin poems, a rustic farce known as "Catrina" (Florence, 1567), and the "Dialogo contro i poeti" (Ferrara, 1527) unworthy productions of his facile pen. The morality of Berni's writings is far from commendable.
EDOARDO SAN GIOVANNI
---
Enjoying this content?
Please support our mission!
Donate