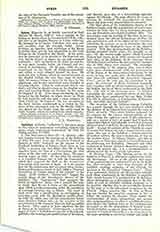 Click to enlarge
Sykes, EDMUND, b. at Leeds; martyred at York Tyburn March 23, 1586-7; was a student at the College at Reims where he was ordained February 21, 1581, and sent to the English Mission on June 5 following. He labored in his native Yorkshire with such zeal and sacrifice, that his strength failed. Arthur Webster, an apostate, took advantage of his illness to betray him, and he was committed to the York Kidcot by the Council of the North. In his weakness he consented to be present at the heretical service, but he refused to repeat the act and remained a prisoner. After confinement for about six months, he was again brought before the Council and sentenced to banishment. On August 23, 1585, he was transferred to the Castle of Kingston-upon-Hull, and within a week shipped beyond the seas. He made his way to Rome, where he was entertained at the English College for nine days from April 15, 1586, his purpose being to atone for his lapse by the pilgrimage, and he also entertained some thoughts of entering religion. There he understood that it was God's will that he should return to the English mission, and reaching Reims on June 10, he left again for England on 16. After about six months he was betrayed by his brother, to whose house in Wath he had resorted, and was sent a close prisoner to York Castle by the Council. He was arraigned at the Lent Assizes, condemned as a traitor on the score of his priesthood, and on March 23, 1586-7 was drawn on the hurdle from the castle yard to York Tyburn, where he suffered the death penalty.
J. L. WHITFIELD
---
Enjoying this content?
Please support our mission!
Donate