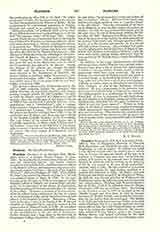 Click to enlarge
Plowden, EDMUND, b. 1517-8; d. in London, February 6, 1584-5. Son of Humphrey Plowden of Plowden Hall, Shropshire, and Elizabeth his wife; educated at Cambridge, he took no degree. In 1538 he was called to the Middle Temple where he studied law so closely that he became the greatest lawyer of his age, as is testified by Camden, who says that "as he was singularly well learned in the common laws of England, whereof he deserved well by writing, so for integrity of life he was second to no man of his profession" (Annals, 1635, p. 270). He also studied at Oxford for a time, and besides his legal studies, qualified as a surgeon and physician in 1552. On Mary's accession he became one of the council of the Marches of Wales. In 1553 he was elected member of Parliament for Wallingford and in the following year was returned for two constituencies, Reading and Wootten-Bassett; but on January 12, 1554-5, he withdrew from the House, dissatisfied with the proceedings there. Succeeding to the Plowden estates in 1557, he lectured on law at Middle Temple and New Inn; in 1561 he became treasurer of Middle Temple and during his treasurer-ship the fine hall of that inn was begun. His fidelity to the Catholic faith prevented any further promotion under Elizabeth, but it is a family tradition that the queen offered him the Lord Chancellorship on condition of his joining the Anglican Church. He success-fully defended Bishop Bonner against the Anglican Bishop Horne, and helped Catholics by his legal knowledge. On one occasion he was defending a gentleman charged with hearing Mass, and detected that the service had been performed by a layman for the purpose of informing against those who were present, whereon he exclaimed, "The case is altered; no priest, no Mass", and thus secured an acquittal. This incident gave rise to the common legal proverb, "The case is altered, quoth Plowden". He himself was required to give a bond in 1569 to be of good behavior in religious matters for a year, and in 1580 he was delated to the Privy Council for refusing to attend the Anglican service, though no measures seem to have been taken against him. His works were: "Les comentaries ou les reportes de Edmunde Plowden" (London, 1571), often reprinted and translated into English; "Les Quares del Monsieur Plowden" (London, no date), included in some editions of the Reports; "A Treatise on Succession", MSS. preserved among the family papers. Its object was to prove that Mary, Queen of Scots, was not debarred from her right to the English throne by her foreign birth or the will of Henry VIII. Several MSS. legal opinions are preserved in the British Museum and the Cambridge University Libraries. He married Catherine Sheldon of Beoley and by her had three sons and three daughters. There is a portrait effigy on his tomb in the Temple Church, and a bust in the Middle Temple Hall copied from one at Plowden.
EDWIN BURTON
---
Enjoying this content?
Please support our mission!
Donate