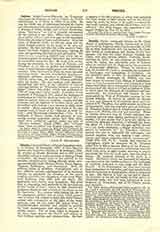 Click to enlarge
Caylus, ANNE-CLAUDE-PHILIPPE DE TUBIERESGRIMOARD DE PESTELS DE LEVIS, COMTE DE, French archaeologist, b. at Paris, in 1692; d. in 1765. He was the eldest son of Lieutenant-General de Caylus and was educated with the greatest care by his mother, a woman of much ability and literary distinction, whose "Souvenirs" are full of valuable information for the history of the time. When only seventeen years old he enlisted and took part in the campaigns of the French army in Spain and Germany. After the peace of Rastadt (1714), he left the army and devoted himself entirely to the study of the arts and sciences. He first travelled for a few years in Italy, Greece, the East, England and Germany, visiting old ruins and gathering inscriptions and antiquities. His desire to see everything himself and verify the information given by ancient historians was such that he sometimes risked his life. He went even so far, during his excursion to the ruins of Ephesus and Colophon, as to take as guides and bodyguards a troop of much-dreaded highwaymen who infested the country. After his return to Paris, he wrote his most important book, "Recueil d'antiquites egyptiennes, etrusques, grecques, romaines et gauloises (Paris, 1752-67, seven vols., the last two volumes published after his death). He also worked, with Mariette, Barthelemy and Rive, at the collection of ancient paintings known as "Peintures antiques trouvees a Rome" (three vols. folio), which was published in 1783-87, long after Caylus' death. A member of the Academy of Painting in 1731, and of the Academy of Inscriptions in 1742, he wrote no fewer than fifty reports on various topics of erudition. Caylus was also a painter and an engraver of no little merit, and he is credited with finding a new process to inlay colors in marble. Many engravings were made at his own expense, such as those of the "Histoire de Saint Joseph", after Rembrandt (Amsterdam, 1755). In his moments of leisure Caylus took pleasure in composing novels; humorous pieces, and fairy tales, which were published together under the title of "Euvres badines" (Paris, 1787). His "Oriental Tales" were translated into English (London, 1817).
LOUIS N. DELAMARRE
---
Enjoying this content?
Please support our mission!
Donate