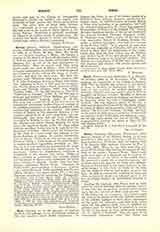 Click to enlarge
Bosa, Diocese of, in the province of Cagliari, Sardinia, and suffragan to the Archdiocese of Sassari. The city numbers about 35,000 inhabitants. St. Gregory the Great, in one of his letters, speaks of a Bishop of Bosa, without, however, mentioning the bishop's name. In 1073 Costantino de Castro, Bishop of Bosa, who, according to an inscription, had built the cathedral dedicated to St. Peter, was appointed Metropolitan of Torres by St. Gregory VII. Among the most illustrious bishops of this see are numbered: the learned Cardinal Giovanni Casanova (1424); G. Francesco Fara (1591), author of the first (but very inaccurate) history of Sardinia; Serafino Esquirro, a learned theologian, who had been General of the Servites (1677). It is asserted by some that the see was originally at Calmedia, but was transferred to Bosa after the destruction of the former town; also, that the first bishop was St. Emilius, sent thither by St. Peter and martyred in 70—for this, however, there is no historical evidence. The diocese has a population of 40,200, with 21 parishes, 104 churches and chapels, 100 secular priests, and 40 seminarians.
U. BENIGNI
---
Enjoying this content?
Please support our mission!
Donate