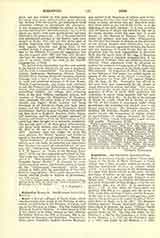 Click to enlarge
Acqui, a diocese suffragan of Turin, Italy, which contains ninety-three towns in the Province of Alexandria, twenty-three in the Province of Genoa, and one in the Province of Cuneo. The first indubitable Bishop of Acqui is Ditarius. A tablet found in 1753 in the church of St. Peter, informs us that Ditarius, the bishop, died on the 25th of January, 488, in the Consulate of Dinamias and Syphidius. Popular tradition gives Deusdedit, Andreas Severus Maximus, and, earliest of all, Majorinus, as bishops prior to him. Calculating the time that these bishops, Roman certainly in name, governed this see, Majorinus probably lived either at the end of the fourth, or in the beginning of the fifth, century. It is very probable that the diocese of Acqui was erected at the end of the fourth century, about the same time, it would appear, as the dioceses of Novara, Turin, Ivrea, Aosta and perhaps, Asti and Alba. Presupposing the fact that the erection of dioceses in the provinces of the Roman Empire, after Constantine, was not done without previous agreement between the Church and the emperors, it is safe to say that the most propitious time for such organization in Northern Italy was the seven years of the reign of Honorius (395-402), when a complete reorganization of the Provinces of Northern Italy and Southern Gaul was effected. Other arguments could be advanced to confirm the existence and episcopate of St. Majorinus. The name was very common in the third, fourth, and fifth centuries. St. Augustine (De Haer., T, 69) speaks of two bishops of this name; two others appear as signers of the Letter of the Synod of Carthage to Pope Innocent the First (401-417) against Pelagius (Ep. St. August, II, 90). Veneration was offered to the saint from time immemorial by the church in Acqui, shown by his statues and relics. This veneration, however, has ceased since a decree of the Congregation of Rites (April 8, 1628) prohibited the veneration of saints whose sanctity had not been declared by the Holy See. In the list of the bishops of Acqui, St. Guido (1034-70) is worthy of note. He was of the Counts of Acquasana under whose government the cathedral was erected, and is the patron saint of Acqui. The bishopric contains 122 parishes; 456 churches, chapels, and oratories; 317 secular priests; 180 seminarians; 42 regular priests; 20 lay-brothers; 75 religious (women); 60 confraternities; 3 boys' schools (168 pupils); 4 girls' schools (231 pupils). Population, 18,120.
ERNESTO BUONAIUTI
---
Enjoying this content?
Please support our mission!
Donate