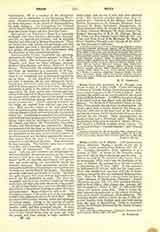 Click to enlarge
Croia, a titular see of Albania. Croia (pronounced Kruya, Albanian, "Spring") stands on the site of Eribcna, a town mentioned by Ptolemy (III, xiii, 13, 41). Georgius Acropolites (lxix) mentions it as a fortress in 1251. A decree of the Venetian senate gave it in 1343 to Marco Barbarigo and his wife. In 1395 it was held by the Castriots (Mas-Latrie, Tresor de chronologie, 1773), and it was the birthplace of the Lion of Albania, the national hero, George Castriota or Scanderbeg (d. January 17, 1468). It was captured by Mohammed II June 14, 1478, and the whole population was slaughtered together with the Venetian garrison, except the few who embraced Mohammedanism. Since the thirteenth century Croia has been a Latin suffragan of Dyrrachium (Durazzo). Farlati (Illyricum sacrum, VII, 411-432) mentions fourteen bishops from 1286 to 1694 (Gams, 404; Lequien, III, 955, incomplete); Eubel (I, 224; II, 156) adds four names and corrects some data. Croia is today the chief town of a kaimakamlik in the vilayet of Scutari, with about 10,000 inhabitants, all Mussulmans. The Venetian citadel, 1500 feet above the sea, is still preserved together with Turkish guns and bells dating from the days of Skanderbeg. Croia is renowned among the Bektashi dervishes for the tombs of many of their saints.
S. PETRIDES
---
Enjoying this content?
Please support our mission!
Donate