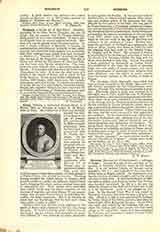 Click to enlarge
Cotiaeum, a titular see of Asia Minor. Kotiaion, according to its coins, better Cotyaion, the city of Cotys, was an ancient city of Phrygia Salutaris. Aesop is said to have been born there. It was a center of heresy from the second century onwards. Socrates (IV, xxviii) speaks of its Novatian bishop. At first a simple suffragan of Synnada, it became an autocephalous archbishopric, probably in the eighth century, and about the tenth appears as a metropolis with three suffragan sees, which were later increased to thirteen (?). Lequien (I, 851) mentions ten bishops, the last in the fourteenth century. The first is Cyrus, sent thither by Theodosius II, after four bishops had been slain by the inhabitants. The town preserves some ancient ruins, a Byzantine castle and church. It was taken and plundered by Timur-Leng (Tamerlane) in 1402. It is now the chief town of a sanjak in the vilayet of Brusa, and is called by the Turks Kutaya. It has about 22,000 inhabitants, including 4000 Greeks, 2300 Armenians, 700 Catholic Armenians, and a few Latins; it contains two schools. It is also the see of a non-Catholic Armenian bishop. During late centuries Kutaya has been renowned for its Turkish earthenware, of which fine specimens may be seen at the Imperial Museum in Constantinople.
S. PETRIDES
---
Enjoying this content?
Please support our mission!
Donate