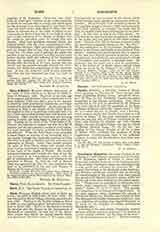 Click to enlarge
Claudia (Klaudia), a Christian woman of Rome, whose greeting to Timothy St. Paul conveys with those of Eubulus, Pudens, Linus, "and all the brethren" (II Tim., iv, 21). Evidently, Claudia was quite prominent in the Roman community. The Linus mentioned in the text is identified by St. Irenaeus (Adv. haer.,1II, iii, 3) with the successor of St. Peter as Bishop of Rome; and in the "Apost. Const.", VII, 46, he is called the son of Claudia, Alvos o KXavSlar, which seems to imply that Claudia was at least as well known as Linus. It has been attempted to prove that she was the wife of Pudens, mentioned by St. Paul; and, further, to identify her with Claudia Rufina, the wife of Aulus Pudens who was the friend of Martial (Martial, Epigr., IV, 13; XI, 54). According to this theory Claudia would be a lady of British birth, probably the daughter of King Cogidubnus. Unfortunately there is not sufficient evidence to make this identification more than possibly true.
W. S. REILLY
---
Enjoying this content?
Please support our mission!
Donate