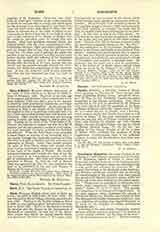 Click to enlarge
Clare of Rimini, BLESSED (CHIARA AGOLANTI), of the order of Poor Clares, b. at Rimini in 1282; d. there February 10, 1346. Deprived at an early age of the support and guidance of her parents and of her pious husband, Clare soon fell a prey to the dangers to which her youth and beauty exposed her, and began to lead a life of sinful dissipation. As she was one day assisting at Mass in the church of the Friars Minor, she seemed to hear a mysterious voice that bade her say a Pater and an Ave at least once with fervor and attention. Clare obeyed the command, not knowing whence it came, and then began to reflect upon her life. Putting on the habit of the Third Order of St. Francis, she resolved to expiate her sins by a life of penance, and she soon became a model of every virtue, but more especially of charity towards the destitute and afflicted. When the Poor Clares were compelled to leave Regno on account of the prevailing wars, it was mainly through the charitable exertions of Clare that they were able to obtain a convent and means of sustenance at Rimini. Later, Clare herself entered the order of Poor Clares, along with several other pious women, and became superioress of the convent of Our Lady of the Angels at Rimini. She worked numerous miracles and towards the close of her life was favored in an extraordinary manner with the gift of contemplation. Her body now reposes in the cathedral of Rimini. In 1784 the cult of Blessed Clare was approved by Pius VI, who permitted her feast to be celebrated in the city and Diocese of Rimini on the tenth of February.
STEPHEN M. DONOVAN
---
Enjoying this content?
Please support our mission!
Donate