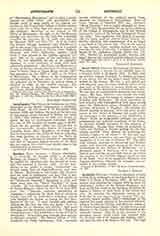 Click to enlarge
Antonelli, GIACOMO, CARDINAL, Secretary of Stateto Pius IX, b. at Sonnino, in the Papal States, April 2,1806; d. in Rome, November 6, 1876. Of well-to-do parents later ennobled by Gregory XVI, he made his preliminary studies at the Roman Seminary, and took up the law course at the Sapienza, obtaining the degree of Doctor of both Laws in his twenty-first year. On entering the diplomatic service of the Holy See he was appointed by Gregory XVI successively secular prelate (1830), referendary of the superior law court, assessor of the criminal tribunal, delegate to Orvieto, Viterbo, and Macerata, canon of St. Peter's (made deacon, 1840). In 1841 he was made Minister of the Interior and in 1845 Treasurer of the Apostolic Camera. Pius IX on his accession to the pontifical throne (1846) made him cardinal with the diaconal title of St. Agatha alla Suburra (1847), and later the title of St. Maria in Via later. The Pope created him in turn Minister of Finance in the first ministerial council; president of the newly-organized Council of State; member of the ecclesiastical commission for civil reform (February, 1848), and premier of his first constitutional ministry (March 10, 1848), in which there was a preponderance of the lay element. Resigning this office (May 3, 1848) to Count Mamiani, who organized a new liberal ministry, Antonelli became Prefect of Sacred Palaces, and after the death of Rossi arranged the flight of the Pope to Gaeta, where he was made Secretary of State and conducted the negotiations for the restoration of papal rule. Returning to Rome with the Pope (April 12, 1850), he retained the reins of power which he held until his death, twenty-seven years later. His life during this period is inextricably bound up with the history of the reign of Pius IX. Until 1870 he was practically the temporal ruler of Rome, being charged by Pius IX with the care of public interests, that the Pontiff might devote himself more exclusively to his spiritual duties. It is impossible as yet to form a just estimate of the works of Antonelli, or to reconcile the extravagant praise of his admirers with the vituperations of his enemies. It must be said that he defended vigorously the rights of the Holy See, won the respect of princes and statesmen for his diplomatic ability, and showed himself fearless, braving alike public opinion and private jealousy. In extenuation of the charge that his aim was to a large extent personal aggrandizement, it must be recalled that he was a statesman rather than a prelate, and that he was not a priest, although most assiduous in the discharge of his religious duties.
F. M. RUDGE
---
Enjoying this content?
Please support our mission!
Donate