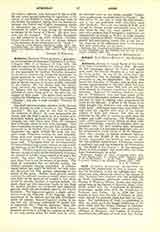 Click to enlarge
Auch (AUGUSTA AUSCORUM), Archdiocese of, comprises the Department of Gers in France. Before the Revolution it had ten suffragan sees: Acqs (Dax) and Aire, afterwards united as the Diocese of Aire; Lectoure, later reunited with the Archdiocese of Auch; Couserans, afterwards united with the Diocese of Pamiers; Oloron, Lescar, and Bayonne. united later as the Diocese of Bayonne; Bazas, afterwards united with the Archdiocese of Bordeaux; Comminges, united later with the Archdiocese of Toulouse; and Tarbes. Up to 1789 the Archbishops of Auch bore the title of Primate of Aquitaine, though for centuries there had been no Aquitaine. The Archdiocese of Auch, reestablished in 1882, was made up of the former archdiocese of the same name and the former Dioceses of Lectoure, Condom, and Lombez. Condom was previously a suffragan of Bordeaux, and Lombez of Toulouse; thenceforth the suffragans of Auch were Aire, Tarbes, and Bayonne. A local tradition that dates back to the beginning of the twelfth century tells us that Taurinus, fifth Bishop of Eauze (Elusa), abandoned his episcopal city, which had been destroyed by the Vandals, and transferred his see to Auch. Eauze, in fact, probably remained a metropolitan see till about the middle of the ninth century, at which time, owing to the invasions of the Northmen, it was reunited to the Diocese of Auch, which had existed since the fifth century at least and then became an archdiocese. The first Bishop of Auch known to history is the poet, St. Orientius (first half of the fifth century), in honor of whom a famous abbey was founded in the seventh century. Cardinal Melchior de Polignac, author of the "Anti-Lucrece," was Archbishop of Auch from 1725 to 1741. The cathedral of Sainte Marie, a Gothic structure with a Byzantine facade, is, in spite of this incongruity, very imposing; its fifteenth-century windows are said to be the most beautiful in France. The ancient episcopal sees of Condom and Lombez had a monastic origin. Bossuet was non-resident Bishop of Condom for two years (1668-71). At the end of the year 1905 the Archdiocese of Auch contained 238,448 inhabitants; 29 parishes, 478 succursal or mission churches, and 61 vicariates.
GEORGES GOYAU
Councils of Auch
Auch, COUNCILS OF. In 1068 a council of Auch decreed that, with a few exceptions, all churches should pay to the Cathedral of Auch one quarter of their tithes. At a council held in 1077 (near Cliovempopulania) William, Archbishop of Auch, was deposed by Gerald, legate of Gregory VII. In 1276 a council was held at Auch in defense of ecclesiastical jurisdiction and immunities. In 1851 a provincial council of Auch drew up a number of decrees concerning faith and doctrine, the hierarchy, public worship, and ecclesiastical studies.
---
Enjoying this content?
Please support our mission!
Donate