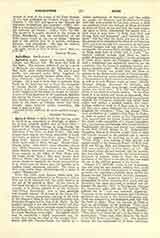 Click to enlarge
Agilulfus, Saint, Abbot of Stavelot, Bishop of Cologne and Martyr, 750. We know but little of this Saint. The account, written of him by a monk of Malmedy and printed by the Bollandists, is, as they state, quite untrustworthy. He was of good family, was educated under Abbot Angelinus at Stavelot, and eventually became abbot there. Not long afterwards Agilulfus was elected Bishop of Cologne. He is said to have tried to persuade King Pepin on his deathbed not to leave the succession to Charles Martel, his illegitimate son, and the Bishop's death by violence soon after is attributed to the vengeance of the prince he sought to exclude. A letter of Pope Zacharias in 747 commends Agilulfus for signing the Charta verae et orthodoxae professionis. His remains were conveyed to the Church of Our Lady of the Steps, at Cologne, where they have recently again received public veneration. His feast is kept on July 9.
HERBERT THURSTON
---
Enjoying this content?
Please support our mission!
Donate