Age of Reason
That period of human life at which persons are deemed to begin to be morally responsible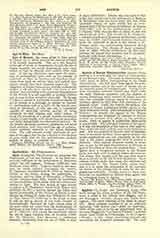 Click to enlarge
Age of Reason, the name given to that period of human life at which persons are deemed to begin to be morally responsible. This, as a rule, happens at the age of seven, or thereabouts, though the use of reason requisite for moral discernment may come before, or may be delayed until notably after, that time. At this age Christians come under the operation of ecclesiastical laws, such as the precept of assistance at Mass on Sundays and holydays, abstinence from meat on certain days, and annual confession, should they have incurred mortal sin. The obligation of Easter Communion, literally understood, applies to all who have reached "the years of discretion"; but according to the practical interpretation of the Church it is not regarded as binding children just as soon as they are seven years old. At the age of reason a person is juridically considered eligible to act as witness to a marriage, as sponsor at baptism or confirmation, and as a party to the formal contract of betrothal; at this age one is considered capable of receiving extreme unction, of being promoted to first tonsure and minor orders, of being the incumbent of a simple benefice (beneficium simplex) if the founder of it should have so provided; and, lastly, is held liable to ecclesiastical censures. In the present discipline, however, persons do not incur these penalties until they reach the age of puberty, unless explicitly included in the decree imposing them. The only censure surely applicable to persons of this age is that for the violation of the clausura of nuns, while that for the maltreatment, suadente diabolo, of clerics, is probably so.
JOSEPH F. DELANY
---
Enjoying this content?
Please support our mission!
Donate