Aengus the Culdee, Saint
Irish saint who flourished in the last quarter of the eighth century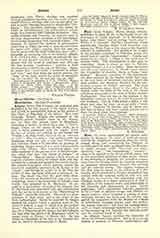 Click to enlarge
Aengus, Saint (the CULDEE), an Irish saint who flourished in the last quarter of the eighth century, and is held in imperishable honor as the author of the Felire, or Festology of the Saints. Born near Clonengh, Ireland, Aengus was educated at the monastic school, founded there by St. Fintan, not far from the present town of Mountrath. Becoming a hermit, he lived for a time at Disertbeagh, where, on the banks of the Nore, he is said to have communed with the angels. From his love of prayer and solitude he was named the "Culdee"; in other words, the Ceile De, or "Servant of God." (See Culdees.) Not satisfied with his hermitage, which was only a mile from Clonenagh, and, therefore, liable to be disturbed by students or wayfarers, Aengus removed to a more solitary abode eight miles distant. This sequestered place, two miles southeast of the present town of Maryborough, was called after him "the Desert of Aengus", or "Dysert-Enos". Here he erected a little oratory on a gentle eminence among the Dysert Hills, now represented by a ruined and deserted Protestant church. His earliest biographer (ninth century) relates the wonderful austerities practiced by St. Aengus in his "desert", and though he sought to be far from the haunts of men, his fame attracted a stream of visitors. The result was that the good saint abandoned his oratory at Dysert-Enos, and, after some wanderings, came to the monastery of Tallaght, near Dublin, then governed by St. Maelruan. He entered as a laybrother, concealing his identity, but St. Maelruan soon discovered him, and collaborated with him on the work known as the "Martyrology of Tallaght", about the year 790. This work is a prose catalog of Irish saints, and is the oldest of the Irish martyrologies. About the year 805 St. Aengus finished his famous Felire, a poetical work on the saints of Ireland, a copy of which is in the Leabhar Breac. The last touches were given to this work in the cell at Disert-beagh (St. Aengus had left Tallaght, not long after the death of St. Maelruain), where he passed away on Friday, March 11, 824. He was buried in Clonenagh, as we read in his metrical life, and his death is commemorated March 11.
W. H. GRATTAN FLOOD
---
Enjoying this content?
Please support our mission!
Donate