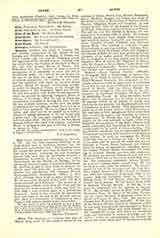 Click to enlarge
Alton, the Diocese of, includes that part of Illinois lying south of the northern limits of the counties of Adams, Brown, Cass, Menard, Sangamon, Macon, Moultrie, Douglas, and Edgar, and north of the southern limits of the counties of Madison, Bond, Fayette, Effingham, Jasper, and Crawford. It was created July 29, 1853, by the division of the Diocese of Chicago, then embracing the whole state of Illinois. The new see was first located at Quincy, but was transferred, January 9, 1857, to Alton. Its German Catholic population came largely from Cincinnati and settled at Quincy, Teutopolis, and Germantown. Swiss Catholics founded Highland, and Alsatians Sainte Marie. The building of railroads brought Irish Catholics in growing numbers. Cahokia, Kaskaskia, and Prairie du Rocker, which now belong to the Diocese of Belleville, had been settled by French Catholics at an earlier period. Prominent among the lay Catholics of the early period were Peter and Sebastian Wise of Alton, Mr. Shepherd of Jerseyville, Mr. Picquet of Sainte Marie, Charles Rolla and his nephew of Jacksonville. Fathers Ostrop, Hinsen, and Hickey were energetic missionaries.
BISHOPS.—Henry Damian Juncker (1857-68), b. August 22, 1809, at Fenestrange, in German Lorraine; d. at Alton, October 2, 1868, attended the Pont-l-Mousson Seminary, but emigrated to Cincinnati, where he found an opportunity of continuing his studies in view of the priesthood to which he was raised, March 16, 1836, by Bishop Purcell. He filled several charges in Ohio previous to his consecration, at Cincinnati Cathedral, April 26, 1857, by Archbishop Purcell. At Alton the bishop found before him 58 churches, five in course of erection; 30 stations visited by 28 priests; six young men studying for the ministry; two female academies, and a population of about 50,000. This population was made up of old French settlers, some Kentuckians, but especially of Irish immigrants driven away from their country by famine, and Germans, by political disturbances. In Illinois they were finding fertile prairies to till, and railroads to build. Thus they enhanced the prosperity of the State, hitherto only partly cultivated, and depending on the rivers and county roads for its means of communication. The non-Catholic population was not particularly hostile. Priests were very scarce, and vocations to the ministry very limited. In such an emergency the Bishop could only look up to Europe for help. In the fall of the same year he crossed the ocean and secured followers in France, Rome, Germany, and Ireland. After his return, he enlarged his cathedral, erected the present Bishop's House, encouraged the building of churches, schools, convents, and academies. He attended the Second Plenary Council and went to Rome (1867) for the Centenary of the Holy Apostles. His subsequent missionary labors brought on a severe sickness, which proved fatal. He was buried in a vault under his cathedral. He was succeeded by one of his vicars-general, the Very Rev. Peter Joseph Baltes (1869-86), elected September 24, 1869, and consecrated January 23, 1870, in the present Belleville Cathedral (built by him), by Bishop Luers, of Fort Wayne, while the Vatican Council was in session. He was born April 7, 1820, in Ensheim, Rhenish Bavaria. At the age of six years he emigrated with his parents to Oswego, N. Y. He attended school at Holy Cross College, Worcester, Mass.; St. Mary's of the Lake, Chicago; and the Grand Seminary of Montreal, where he received ordination, May 21, 1853. His missionary charges were Waterloo and Belleville. At the time of the Second Plenary Council of Baltimore (1866) he was made vicar-general, and theologian to Bishop Juneker. Bishop Baltes soon made himself felt by the indomitable energy with which he introduced order and uniformity in matters of liturgy and discipline. Under his administration was enacted the special law under which most of the church property is held in Southern Illinois. The burning, in the early part of 1884, of the convent built by him while in Belleville, in which twenty-seven lives were lost, proved a severe shock to his constitution. Sickness prevented him from attending the Third Plenary Council. He lingered for several months, going to his reward February 15, 1886. He was buried side by side with his predecessor. After a vacancy of more than two years, the Rev. James Ryan, then rector of St. Columba's church, Ottawa, in the diocese of Peoria, was appointed, February 27, 1888. At the same time the diocese was divided, the southern half being made into the new diocese of Belleville. Bishop Ryan was born near Thurles, Ireland, June 17, 1848. When seven years old, he emigrated with his parents to Louisville, Ky., studied at St. Thomas's and St. Joseph's Colleges, Bardstown, in that State, finished his studies at Preston Park Seminary, Louisville, and was ordained, December 24, 1871. After a few years of mission labors and teaching, he followed Bishop Spalding to Peoria, labored on several missions and built a number of churches. He was consecrated, May 1, 1888, at the Alton Cathedral, by Bishop Spalding. He held the first synod of the Alton Diocese, February 27, 1889.
STATISTICS.—At present (1906) the diocese numbers 119 diocesan priests, 35 religious, 428 sisters, 143 parishes, 65 parochial schools, with 9,000 pupils, 2 asylums, with 110 children, 9 hospitals, 2 preparatory seminaries, with 330 students, 23 theological students, 2 colleges, 3 academies, with 380 students. Of late years many immigrants, Italians, Poles, Slavonians, and Lithuanians have come to the diocese, working in the coal mines that are everywhere opening, and taxing the energy of several of the clergy to their utmost capacity. The population of the diocese is 751,107, of which number 75,000 are Catholics.
---
Enjoying this content?
Please support our mission!
Donate