Background
The recent decision by the U.S. Supreme Court to overturn Roe v. Wade was a monumental victory for the pro-life movement. Groups and individuals who had been fighting for the life of unborn children felt elation at the news and a sense of justice for the most vulnerable in our society. But they knew that the fight was far from over.
The Current Environment
Despite the outcry by pro-abortion advocates, the Dobbs decision does not outlaw abortion in America but simply ends the federal "right" to abortion outlined by Roe in 1973. Now, the legal battle is moving to individual states. This is a grassroots opportunity for local pro-life groups—ranging from state right-to-life organizations to neighborhood "40 Days for Life" chapters—to have direct impact on the legislative protection of life in the womb. A handful of states are voting on abortion-related constitutional amendments this year, with many more doing so in 2023.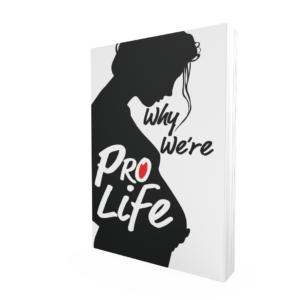 About the Booklet
Why We're Pro-Life addresses the legal and cultural landscape of the post-Roe world in which for the first time in half a century there isn't a radical pro-abortion premise enshrined in the law.
It avoids the common charge that abortion is a church-state issue by appealing only to up-to-date science and broadly shared beliefs about human rights—not the Bible or religious doctrine.
It strikes a reasonable tone of peaceful dialogue, much needed during a time of rising temperatures in the abortion debate and even violence and vandalism directed at pro-lifers and churches.
It is backed by the Catholic Answers brand, which is the mark of quality, charity, and accessibility for a wide variety of readers.
What People Are Saying
"Trent Horn is among the most effective and reliable pro-life apologists in the world. Every pro-lifer needs to have a few copies of this booklet on hand to make pro-life apologetics accessible to anyone—including their most pro-abortion friends."
— Kristan Hawkins, president of Students for Life Action and Students for Life of America
"This booklet is an excellent, quick read that will serve as a great tool for pro-life advocates as we work to make abortion unthinkable. Trent Horn answers the tough questions for those who are unsure about their views on abortion. We're up against an abortion regime that wants to pit moms against their babies. This booklet cuts through their noise and convincingly promotes the truth that every person, especially vulnerable babies in the womb, deserve equal protection under the law."
— Prudence Robertson, host of EWTN Pro-Life Weekly
"Trent Horn has the uncanny ability to get to the heart of the matter with compelling illustrations and pithy arguments, explaining the pro-life view in a way that is accessible, clear, and compassionate. Why We're Pro-Life is a booklet we can hand out to friends and family members with full confidence they will be either challenged (if they support abortion) or encouraged (if they are pro-life) but never not moved to think."
— Francis J. Beckwith, professor of Philosophy and Church-State Studies, Baylor University
Support the Project
Catholic Answers is printing one million copies of Why We're Pro-Life to distribute free. To help support this effort, donate now:
DONATE
To Order Booklets
Please complete this form:
Pro-Life Articles and More on Catholic.com
More Pro-Life Resources on Our Shop
Enjoying this content?
Please support our mission!
Donate